Sweet Dreams Animated Clown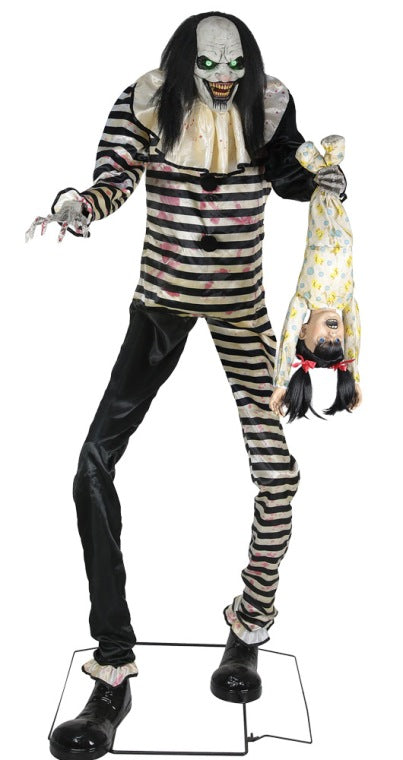 Sweet Dreams Animated Clown
Towering Sweet Dreams Clown just loves kids! This intimidating 7' tall animated creep features an easy-to-assemble metal frame, long black hair, black & white striped costume and large black clown shoes. He has two creepy elongated hands, one of which is holding a small child by the feet! The Sweet Dreams Clown's eyes will glow with green glee and his head and torso turns side-to-side while he says one of three (3) terrifying sayings ("maniacal laughter", "Oh look what I have here (child screams), a new volunteer for my juggling act! (child screams") Looks like I have a live one (child screams) - but not for long hehehe! (child screams)", "Wakey wakey, rise and shine sleepy head! (child screams) This should teach you to always look under your bed! (child screams) And in your closet hahah! (child screams)") as the screaming child he's holding by the feet screams and flails about! Plug the UL power adapter into any standard outlet and choose from Steady-On, Infra-Red Sensor or Step Here Pad (included) activation options to operate. The infra-red sensor works up to 6.5 feet away and works in all lighting conditions - bright light to no light! Item includes volume control. Easy-to-assemble with quick-connect poles. Assembly is required. Materials: 40% Iron, 8% PVC, 2% Electronic, 30% Polyester, 20% Cotton. For indoor or covered-porch use only. This clown might be available for your next party.
Most of our products are built to order. Because we are a seasonal business, manufacturing times will vary. Generally, our products ship 4 to 6 weeks from the order date. If your order will take longer to ship, we will notify you.

Please note that your credit card will be charged at checkout.

Feel free to contact us to request a personalized current manufacturing time estimate.
For larger/heavier orders, we will calculate the shipping cost after your purchase and email you an invoice for the shipping total.
All of the products we manufacture can be ordered in 3-D paint, simply by contacting us after placing your order to request this option.