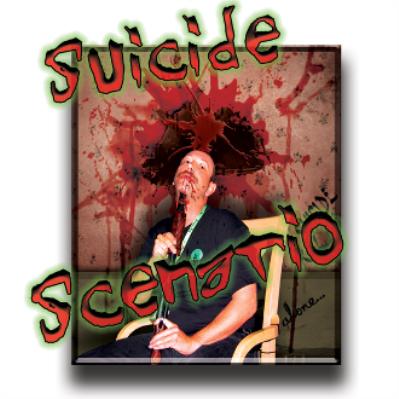 This is not for young children or the weak of heart! Actor puts gun in mouth or under their chin and "blows out the back of their head" splashing on the wall or window behind them. Very realistic! Recycles the fluid back for minimal refilling and maintenance. Used as an entire room scene, the shock of your guests will create a lasting effect. When used as gorilla marketing for your haunted attraction, party or event, or just to scare the folks down the block, it will never let you down. Beware when using in a haunted attraction; as the local news has been known to come down to find out what the buzz is about. Includes: prop gun, valves, fittings, Animation Maestro with Maestro MP3 (with shotgun soundtrack), actor trigger, and air tank pre-wired and programmed. All the plumbing and check valves also included. What you will need for hook-up is a square reservoir bucket, flexible gutter, and chair for actor (and a background window works best). Exclusive Haunted Enterprises creation. Prop gun may vary based on availability.

Most of our products are built to order. Because we are a seasonal business, manufacturing times will vary. Generally, our products ship 4 to 6 weeks from the order date. If your order will take longer to ship, we will notify you.

Please note that your credit card will be charged at checkout.

Feel free to contact us to request a personalized current manufacturing time estimate.
For larger/heavier orders, we will calculate the shipping cost after your purchase and email you an invoice for the shipping total.
All of the products we manufacture can be ordered in 3-D paint, simply by contacting us after placing your order to request this option.