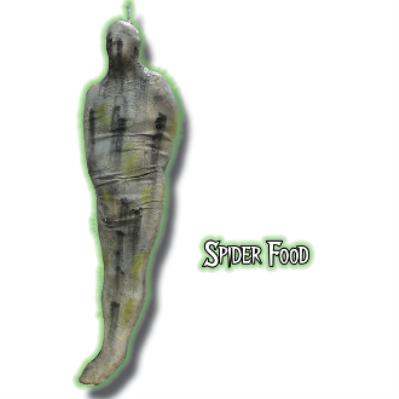 Our Spider Food Kicker a has steel inner frame construction and soft foam outer body. Comes with 16' of hose and kicker unit. Made in USA. Use your own controllers or one of our hook-up kits (KHUK100 or KHUK101). Sound not included. (Can also be ordered as a complete Spider Food Room (SFR), which includes two kickers and five static victims, with automated trigger, timers, valves, and hose pre-plumbed/wired, plug and play ready.)
Most of our products are built to order. Because we are a seasonal business, manufacturing times will vary. Generally, our products ship 4 to 6 weeks from the order date. If your order will take longer to ship, we will notify you.

Please note that your credit card will be charged at checkout.

Feel free to contact us to request a personalized current manufacturing time estimate.
For larger/heavier orders, we will calculate the shipping cost after your purchase and email you an invoice for the shipping total.
All of the products we manufacture can be ordered in 3-D paint, simply by contacting us after placing your order to request this option.