MP3 Maestro Stereo Sound Module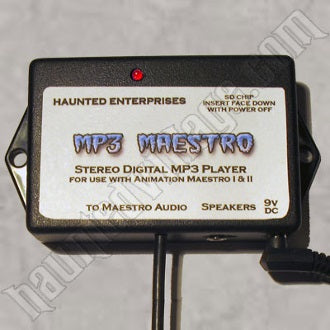 MP3 Maestro Stereo Sound Module
MP3 Maestro Stereo Sound Module includes SD card for easy transferring of your files. Externally plugs into your Animation Maestro 1 or 2. All Maestros are plug-in ready to trigger sound option, allowing your timer to be more customizable and cost effective. This way you are not wasting your money on an option you don't need. One button push interfacing for connecting your quality sound to the action of your prop or light show. Made in USA.
Most of our products are built to order. Because we are a seasonal business, manufacturing times will vary. Generally, our products ship 4 to 6 weeks from the order date. If your order will take longer to ship, we will notify you.

Please note that your credit card will be charged at checkout.

Feel free to contact us to request a personalized current manufacturing time estimate.
For larger/heavier orders, we will calculate the shipping cost after your purchase and email you an invoice for the shipping total.
All of the products we manufacture can be ordered in 3-D paint, simply by contacting us after placing your order to request this option.