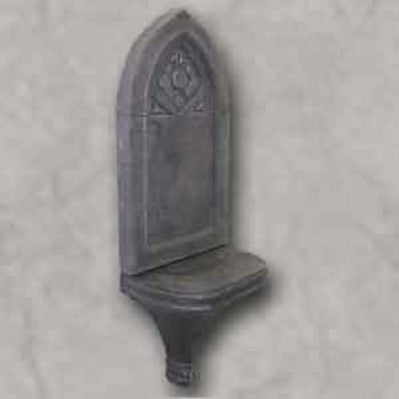 Window dimensions are 35.5 inches by 19.5 inches and sconce dimensions are 21 inches by 19.5 inches. Made from our exclusive polyurethane ridged foam that is colored all the way through, not white carved foam. These look great when combined with Small Terror Gargoyle (GL303-S) sitting on sconce. Perfect for a haunted house, yard haunt, or any Gothic decor need. Exclusive Haunted Enterprises creation. Made in USA.
Most of our products are built to order. Because we are a seasonal business, manufacturing times will vary. Generally, our products ship 4 to 6 weeks from the order date. If your order will take longer to ship, we will notify you.

Please note that your credit card will be charged at checkout.

Feel free to contact us to request a personalized current manufacturing time estimate.
For larger/heavier orders, we will calculate the shipping cost after your purchase and email you an invoice for the shipping total.
All of the products we manufacture can be ordered in 3-D paint, simply by contacting us after placing your order to request this option.