Haunted Doll - Little Precious with Sound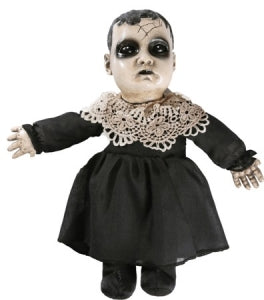 Haunted Doll - Little Precious with Sound
The Little Precious Doll has seen a lot of horror in her days. Unfortunately, she's been the cause of more than her fair share as well. Give her a new home ... if you dare! Features sound-activated or push-activated sounds, rigid PVC head & hands with a stuffed body & feet. Says one of three 5 second sound files with each activation; "(Giggle), You disgust me.", "You can pretend that I don't exist, but I WILL persuade you otherwise.", and, "The last person who held me died a HORRIBLE death. (Giggle)" Uses 2 AA batteries, included.
Most of our products are built to order. Because we are a seasonal business, manufacturing times will vary. Generally, our products ship 4 to 6 weeks from the order date. If your order will take longer to ship, we will notify you.

Please note that your credit card will be charged at checkout.

Feel free to contact us to request a personalized current manufacturing time estimate.
For larger/heavier orders, we will calculate the shipping cost after your purchase and email you an invoice for the shipping total.
All of the products we manufacture can be ordered in 3-D paint, simply by contacting us after placing your order to request this option.