Clown Go-Round Animated Prop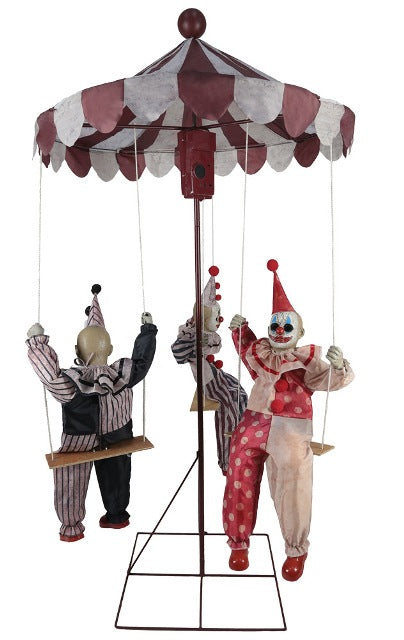 Clown Go-Round Animated Prop
Three forgotten clown dolls from yesteryear are slowly riding a merry-go-round for eternity. Circus tent topper really adds to the effect. Plug the UL power adapter into any standard outlet and choose from Steady-On, Infra-Red Sensor or Step-Here Pad (included) activation options to operate. The infra-red sensor works up to 6.5 feet away and works in all lighting conditions - bright light to no light! Includes volume control for spooky carnival music. Assembly required. Measures approximately 72"H x 36"W x 36"D. Made of Iron, PVC, polyester and cotton.
Most of our products are built to order. Because we are a seasonal business, manufacturing times will vary. Generally, our products ship 4 to 6 weeks from the order date. If your order will take longer to ship, we will notify you.

Please note that your credit card will be charged at checkout.

Feel free to contact us to request a personalized current manufacturing time estimate.
For larger/heavier orders, we will calculate the shipping cost after your purchase and email you an invoice for the shipping total.
All of the products we manufacture can be ordered in 3-D paint, simply by contacting us after placing your order to request this option.