The Last Ride Dual Program Conversion Kit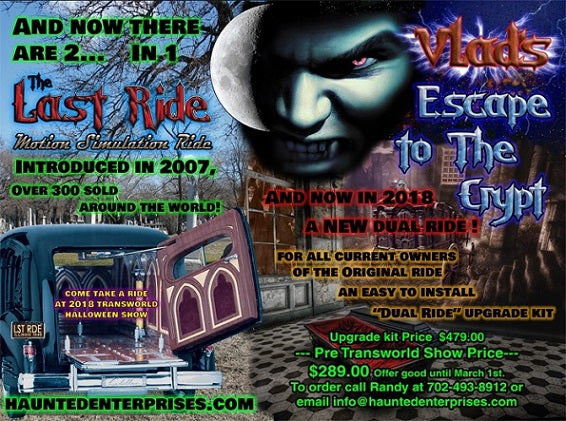 The Last Ride Dual Program Conversion Kit
For owners of our Last Ride Coffin, our new "dual ride" upgrade kit allows customers to choose either our original program or our brand new "Vlad's Escape to the Crypt." This DIY kit allows the rider to choose their Last Ride experience! For repeat guests, it's a whole new adventure. Increases profits! This easily installs and comes with a how-to video. Also includes a link to the artwork so you can print up a new banner advertising both ride experiences. Our introductory sale price is available for a limited time.
Most of our products are built to order. Because we are a seasonal business, manufacturing times will vary. Generally, our products ship 4 to 6 weeks from the order date. If your order will take longer to ship, we will notify you.

Please note that your credit card will be charged at checkout.

Feel free to contact us to request a personalized current manufacturing time estimate.
For larger/heavier orders, we will calculate the shipping cost after your purchase and email you an invoice for the shipping total.
All of the products we manufacture can be ordered in 3-D paint, simply by contacting us after placing your order to request this option.