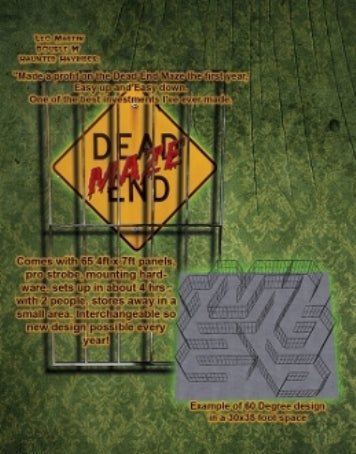 Comes with 60 4' x 7' 100% steel cage-like panels, mounting hardware in the form of many angels to allow a lot of variation in design, making it interchangeable year to year. Approximately 1000 sq. ft. Sets up in approximately four to five hours with two people. Stores in compact area. Proven design is used by many professional attractions including Six Flags, Blue Mountain Ski Lodge, and Double M Haunted Hayrides. We are an attraction producer, as well as a manufacturer of props, so we market test everything before releasing it to the public. This allows us to have all the kinks and troubleshooting worked out prior to release. This Dead End Maze has been known to turn a profit in the first season when used as a stand-alone money maker. Made in USA. Must ship via freight and fits on two pallets. For shipping quotes contact us with your zip code. Please allow 4 - 6 weeks build time under normal conditions, as these attractions are made to order. NOTE: As with any public attraction there may be codes and restrictions within your local government that will require you to get a license, inspection, etc. Halloween Connection can consult with you on general national code, but we always suggest you educate yourself about the local codes that may exist in your area, as it is your responsibility to ensure compliance.
Most of our products are built to order. Because we are a seasonal business, manufacturing times will vary. Generally, our products ship 4 to 6 weeks from the order date. If your order will take longer to ship, we will notify you.

Please note that your credit card will be charged at checkout.

Feel free to contact us to request a personalized current manufacturing time estimate.
For larger/heavier orders, we will calculate the shipping cost after your purchase and email you an invoice for the shipping total.
All of the products we manufacture can be ordered in 3-D paint, simply by contacting us after placing your order to request this option.