Twitching Ghoul Animated Prop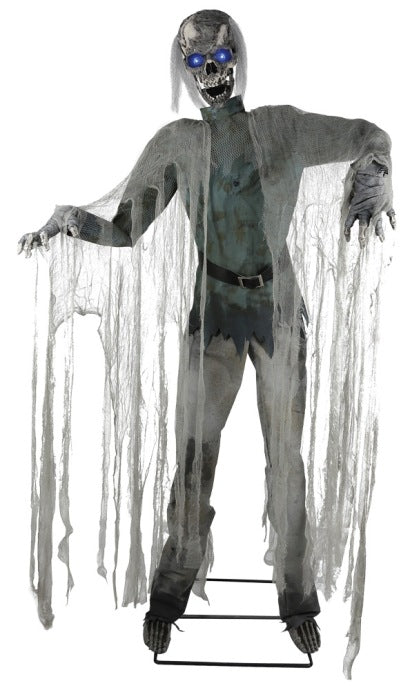 Twitching Ghoul Animated Prop
This disgusting 72-inch tall animated Twitching Ghoul looks to have just shambled off a battleground from the Middle Ages! Wearing a tattered costume with shredded-gauze accents, this rotting Ghoul will rotate at the waist in a jerking motion that will cause his disturbingly-realistic plastic hands, chest, and spring-activated head with a loose jaw to twitch and flop around. His eyes light-up with an other-worldly blue color while he makes disgusting sounds of the undead - truly horrifying! Plug the UL power adapter into any standard outlet and choose from Steady-On, Infra-Red Sensor or Step-Here Pad (included) activation options to operate. The infra-red sensor works up to 6.5 feet away and works in all lighting conditions - bright light to no light! Item includes volume control. Easy-to-assemble quick-connect poles. Assembly is required. For indoor or covered-porch use only.
Most of our products are built to order. Because we are a seasonal business, manufacturing times will vary. Generally, our products ship 4 to 6 weeks from the order date. If your order will take longer to ship, we will notify you.

Please note that your credit card will be charged at checkout.

Feel free to contact us to request a personalized current manufacturing time estimate.
For larger/heavier orders, we will calculate the shipping cost after your purchase and email you an invoice for the shipping total.
All of the products we manufacture can be ordered in 3-D paint, simply by contacting us after placing your order to request this option.