Killer Jumping Clown Prop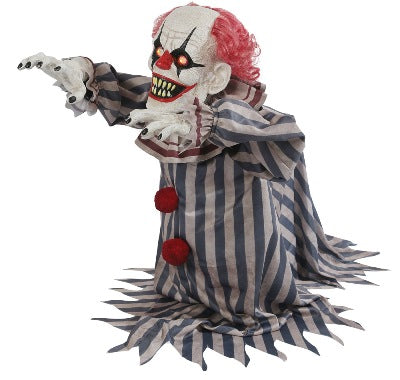 Killer Jumping Clown Prop
He jumps to startle you & your guests and laughs a creepy laugh as his LED eyes light up. Includes an infra-red sensor. Use the Sensor or Step-Here Pad activation options to operate. UL power cord is included. For indoor or covered porch use only. Made of polyurethane metal polyester and electronic parts. Stands approximately 18 inches tall.
Most of our products are built to order. Because we are a seasonal business, manufacturing times will vary. Generally, our products ship 4 to 6 weeks from the order date. If your order will take longer to ship, we will notify you.

Please note that your credit card will be charged at checkout.

Feel free to contact us to request a personalized current manufacturing time estimate.
For larger/heavier orders, we will calculate the shipping cost after your purchase and email you an invoice for the shipping total.
All of the products we manufacture can be ordered in 3-D paint, simply by contacting us after placing your order to request this option.