Animated Towering Boogey Man with Kid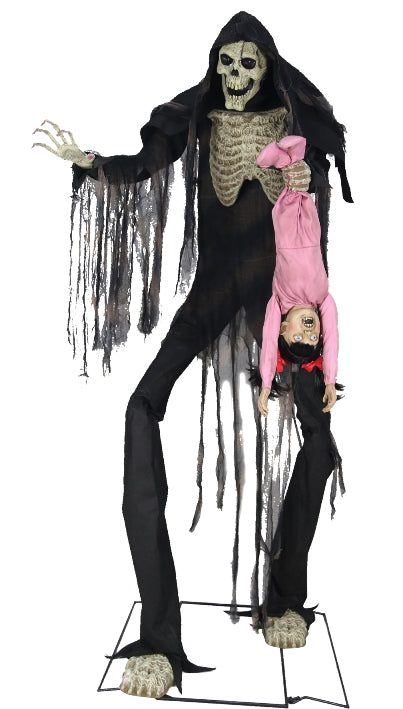 Animated Towering Boogey Man with Kid
Give the neighborhood folks a scare with the Towering Boogeyman! This animated Halloween prop with sound effects is an intimidating 7 feet tall and features a skeleton wearing a tattered black outfit holding a child that screams and flails about. The skeleton's eyes light up and his head and torso turn from side-to-side as he laughs disturbingly. An excellent animated prop to add to your indoor Halloween decorations! This scary decoration is easy to assemble and includes volume control. Activation options: steady-on, Step-Here pad, and infra-red sensor (works up to 6.5 feet away and works in all lighting conditions). Standard UL power adapter. Assembly required. 84 inches H x 38 inches W x 38 inches D.
Most of our products are built to order. Because we are a seasonal business, manufacturing times will vary. Generally, our products ship 4 to 6 weeks from the order date. If your order will take longer to ship, we will notify you.

Please note that your credit card will be charged at checkout.

Feel free to contact us to request a personalized current manufacturing time estimate.
For larger/heavier orders, we will calculate the shipping cost after your purchase and email you an invoice for the shipping total.
All of the products we manufacture can be ordered in 3-D paint, simply by contacting us after placing your order to request this option.